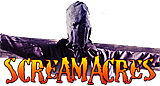 Find out what terror is lurking in the dark, rustling corn of Northwest Ohio. You never know what is waiting for YOU in ScreamAcres; you can feel them breathing on your neck as they watch and wait for the right moment to strike. Bloodshot eyes follow your every move through the fields. Whispers surround you and if you listen closely you may hear your name being called out from the darkness where gut-wrenching screams and sinister laughter reminds you that you are not alone no matter where you go.  Experience the real terror of the tall corn as you find  your way through ScreamAcres.
This high-action, winding walk is filled with monsters  and NOT for the faint of heart. At ScreamAcres,  we will leave you screaming – quite literally – for more.
When it's all over, catch your breath and relax with refreshments. Hot dogs, burgers, Marco's pizza, French fries,  hot cider, and hot chocolate are available at the Cornfield Café.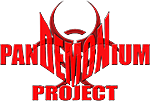 The PanDEMONium Project was once a project run by a respected bio-engineering company. Their face to the public claimed that they were doing research for the greater good. What everyone didn't know is that their underground facilities were hiding terrible human experimentation.  Many lives were lost in the search for the cure for "inner evil."  Research specimens became too strong, inhuman, as experiments  progressed and soon they overpowered the workers themselves, breaking loose and mauling everyone they could find.
Can you face the demon within?
You will experience terror up close and personal!  The PanDEMONium Project is a no holds barred,  high-action haunt not intended for small children or people with heart conditions.

The Barnyard is where all kinds of farmtastic fun  and extras are waiting for you. Be entertained by Barnyard Golf, play on the super slide, milk Buttercup the cow,  enjoy a game of cornhole, find your way through the straw tunnels,  or kick the sky on the barnyard bouncer for a real good time.
If you want to sit back, our farm offers Cow Train rides for the youngsters,  and scenic hayrides around the farm for everyone.  The little ones can get their faces painted – for free! – and visit with friendly costume characters around the farm.  There's also the Little Farmer's Barnyard, where the little tykes five and under can play in inflatables, a cornbox,  and straw tunnels without worrying about bigger kids. If you worked up a hunger after all that fun,  visit the Cornfield Café for sandwiches, Marco's pizza, french fries and drinks.
Your day at the farm wouldn't be complete without  the perfect pumpkin for the front of your porch and at Leaders Farms, we have plenty for you to choose from. Big pumpkins, small pumpkins, giant pumpkins, itty-bitty pumpkins, weird pumpkins, spooky  pumpkins, pumpkins for painting or carving – all colors and shapes! We sell our pumpkins by the pound. We also have decorative gourds, straw bales, and corn stalks available for all of your Fall decorating needs.